Cryogenic Storage Vessels
These vessels come in a range of sizes, pressures and flow rates to meet customers' varying requirements.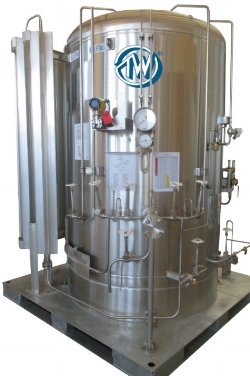 Bulk Storage Vessels
Taylor-Wharton understands the evolving needs of our customers and have leveraged decades of cryogenic experience to provide a premium new MicroBulk offering. With new product design and features, size ranging up to 5000 Liters, a broad range of working pressures and a universal design that can be filled from any cryogenic delivery truck we provide the complete MicroBulk Solution.
Transport Vessel
VIP Engineer to order piping (also referred to as Super Insulated Vacuum Line or SIVL) accommodates pressures up to 150 psi and is suitable for liquid nitrogen applications including nitrogen dosing to increase bottle rigidity and increase shelf life for the food and beverage industry.
LNG Vessels
Shale oil and gas has changed the US and global energy landscape – today there is an abundance of natural gas. Applications are expanding and LNG is replacing diesel, burner fuel, and propane. Taylor-Wharton is at the forefront of customising LNG solutions for these established and emerging applications.
Cryogenic Liquid Cylinders
Portable and vacuum-insulated, our vast array of models will fit your needs and store your contents safely and securely every time.
Applications
Dewars Liquid Cylinders Micro Buld Static Tanks